Who the hell actually believes anything those damn fortune tellers ever say? They sit around in parks, at fairs; some even in their own tiny, dark stores that smell of too much of that incense stuff than there ever should be in one space. Not that any space should even have that crap in the first place.   
A few days ago, I was ambushed by one of them in the park and as they typically tend to do, she tried to convince me that she'd foreseen something horrible was going to happen- and before all you little smart-asses out there get your hopes up, no she didn't predict it was something like me falling down stairs or getting hurt in some way. She seemed convinced she'd foreseen that the city itself was in danger and then assumed I'd give her money for spouting her bullshit. 
She seemed to think I'd believe her because she claimed she had powers. Obviously she doesn't read anything intelligent like newspapers and has no idea who I am.  
She seemed to think that we were under threat from some sort of dark magic, but I bet she just makes up a whole lot of bullshit just so she can get money for something like drugs or alcohol. Not long after, some guy showed up, seeming to be looking for someone or something; possibly her, because he looked almost as dirty and crazy as she did, besides the fact he was carrying around expensive-looking cigarettes. 
Yes I know I normally always report things to do with those so-called 'heroes', but I think something really needs to be done about all these crazy, homeless people walking around the streets…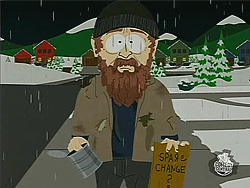 Much like the town in the show called 'South Park'; we're going to be overrun by the homeless sooner or later.
They need to be shipped off to mental hospitals where most of them belong, or get the hell out of the park and stop harassing people trying to go for a walk and enjoy the fresh air!
If they want money they could at least do something useful.  Or they could at least go to one of those shelters or a friend's or something and have a damn shower! I can't be the only one who's tired of seeing these people lying around and begging instead of getting the help they need, but I also can't be the only one who wonders what they did that caused them to end up there in the first place. 
Were they criminals? Were they assholes or were their families? Did they just stupidly waste away all their money on drugs or gambling or whatever? 
My point being, although she was spouting the same kind of bullshit that all those wackos who call themselves villains do, I still gave her some money, but only after leading her to a shelter where the money would allow her to stay for a few days. She was a lot more grateful than most people I've seen on the streets, but still seemed freaked out about what she'd told me. 
I went back there earlier today and saw the guy looking around again, but I think maybe he was a bit crazier looking than last time. 
I know that there are doctors out there who read my articles, so maybe you should get out there and you know; do your job?