RP Name:
Sami/Shea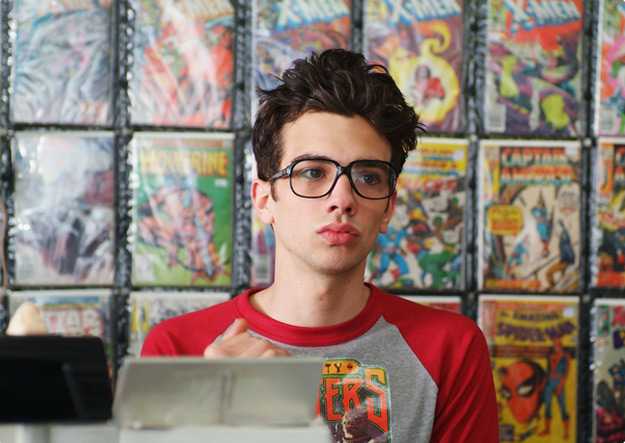 Person used as character face:
Jay Baruchel
Character Name:
William 'Billy' Kaplan/Maximoff
Alias:
Wiccan
Power:
Billy is both a mage and a mutant, his powers like the Scarlet Witch's are almost unlimited and include: Reality warping, spell casting, flight and electrokinesis. Using his spells, he is able to teleport himself and others, change appearances and even heal others. His spells however, only work if he can hear himself saying them.
Second Generation Hero? If so, how did you pick up the legacy from your predecessor?:
Billy's history is often debated, but he is (sort of) second generation. His first alias, Asgardian, was based on Thor and later on in his superhero life, he realised he was one of the Scarlet Witch's reincarnated sons.
Costume:
His costume is made up of a grey material and a starry kind on the sides. He also has a red, hooded cloak.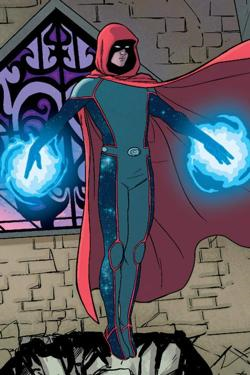 How long have you been a hero?:
Since he was 15-16, so quite a few years now.
Character Bio:
Billy is the oldest of three sons and his parents are both doctors, the family live in a home in New York. His father is a Cardiologist and his mother's a psychologist. He was often bullied in school, thanks to him being gay and a fanboy, loving comic books, superheroes and videogames. Billy once met his favourite Avenger, the Scarlet Witch, who encouraged him to stand up to his bullies; this led to his powers activating and Billy accidentally almost killed the bully.
Billy was eventually found by a younger version of Kang the Conqueror, who'd used a program the Vision had made to locate possible future Avengers and the younger Kang, calling himself Iron Lad, asked Billy's help to stop his future-self going on to become Kang. This led to the forming of a group called the Young Avengers and Billy called himself 'Asgardian', as he grew up loving Norse mythology and his first power he'd discovered was electrokinesis.
Soon after forming the Young Avengers, Billy started dating his teammate Hulkling (Teddy Altman).
After Iron Lad was gone, the team was joined by Cassie Lang (Stature), daughter of Scott Lang and Kate Bishop (Hawkeye). The two girls suggested Billy change his superhero name to Wiccan, which he has stuck with since.
The Young Avengers once dealt with a potential Skrull/Kree alien war over Hulkling, who discovered he's a hybrid of both species and after he was captured, the team broke another young mutant out of a detention facility to help get Hulkling back. The powered teenager they broke out was Tommy Shepard, who later took the name 'Speed'.
During a dispute with S.H.I.E.L.D, Billy and Teddy ended up as prisoners of the Warden, who worked at the superhero prison called 'The Cube'. While they were prisoners, Billy was chained up and forced to watch as the Warden practiced vivisection on Teddy while he was unconscious.
Over his years as a hero, Billy has helped stop a Skrull invasion, worked alongside Captain America not long after he was awakened and also against him while siding with Magneto and Quicksilver. Billy and Tommy had discovered they were in fact the reincarnated twin sons of the Scarlet Witch and had teamed up with the two Brotherhood mutants to try and rescue her from Doctor Doom, who had her in his castle. Captain America however had thought it was a bad idea to bring the Scarlet Witch back, thinking she was dangerous. He changed his mind however and helped protect her from Wolverine who wanted to kill her to prevent her harming people in the future.
While fighting with Doom, Cassie was killed and the Young Avengers disbanded soon after.
After this, Billy fell into a deep depression as a result of all the things he'd seen and spent months doing little more than sitting at home, almost entirely in silence despite his mother's concern. He watched the events of the 'New York Incident' from the Kaplan family home and on TV, but his emotional state prevented him doing anything to help.
Recently, Billy was approached by Dr Strange, who took him on as an apprentice, training him to one day take over as Sorcerer Supreme and Billy has started doing super hero work on his own, still as Wiccan.